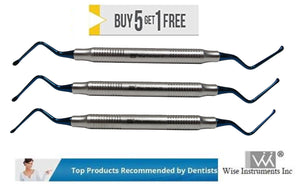 Curettes are Titanium Coated & Micro Serration sizes are: 2.00mm, 2.5mm & 2.8mm
The Wise Super Line provides clinicians with a comprehensive portfolio of armamentarium handcrafted to exacting specifications specifically designed for implant and Perio surgical procedures.

Featuring a performance engineered coating to reduce light reflection under harsh lighting under a microscope, optimize edge retention, enrich visual acuity at the surgical site and sub-gingivally and enhance lubricity for tunneling and microsurgical techniques.
The Super Line is designed to optimize clinical outcomes by delivering efficiency throughout the entire Perio and surgical procedure.