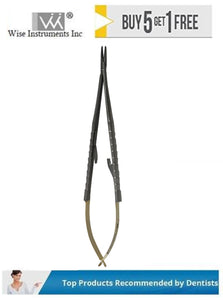 CastroViejo Micro Needle Holder Very fine serrations on narrow profile jaws with carbide inserts. The locking mechanism is activated by squeezing the spring-action handle. This is a great needle holder for periodontal applications where a very fine suture is used Straight (18cm) 7"
All edges of the hinges are rounded off and tapered to eliminate any snagging of the suture material.
Straight beak Castroviejo designed for sutures 5-0, 6-0, 7-0.
Surgical grade stainless steel promotes longevity and corrosion resistance.
Warranty against defects in material and workmanship.