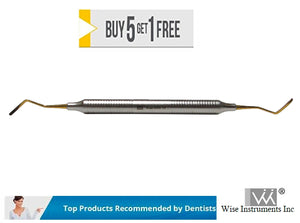 Titanium Nitride coating increases the surface hardness of instrument tips

to reduce abrasion and eliminate "pull-back"

when manipulating composite materials for a smoother, more accurate restoration in less time.

Curved blades conform to tooth anatomy for quicker, more accurate restorations.

The ultra-thin, flexible blades provide exceptional interproximal access. The blades are ideal for Class V restorations.